Looking back over last week, I would have to say that it was one of our most functional weeks. We kept our extra activities to a limit. The new workbox system seemed to motivate the girls allowing them to complete school work earlier than usual. We also used the meals we made in advance allowing me to focus completely on school work. Not to mention that it greatly decreased the amount of dishes to be washed each day! The week went so well that we decided to continue with this pattern. Luckily, we made enough meals to last us a few weeks.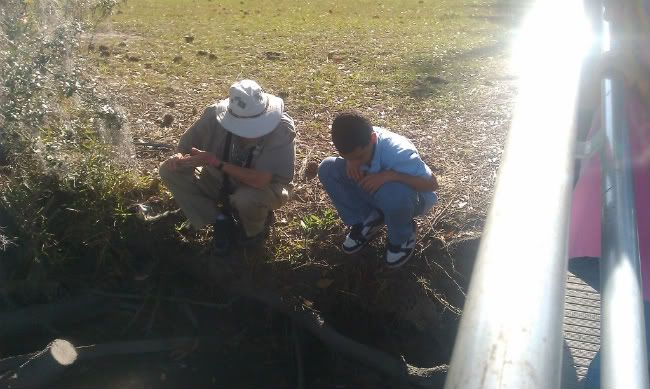 So what did we do for school this week? We attended a local environmental class where we learned about wildflowers. While we were there, the environmentalist also lead us through bird identification, animal tracking, and plant identification. The kids also also attended their drama classes at the library. I never would have thought they would enjoy this class as much as they do, but they absolutely love it. We also began playing Monopoly each night this week. This is their new game of choice.
Inside the classroom:
Nick began his second semester with FLVS last week. He is continuing with his core classes (math, language arts, science, and world cultures) and adding career education and critical thinking.
The girls completed section 3 of James and the Giant Peach. We had the movie in our Netflix list and it came early, so we watched it one evening. We also made craft stick puppets of all the characters.
In science, we began lesson 2 of Apologia Zoology 1. My eldest daughter loves the text, but the younger ones are not enjoying the reading of the textbook. We will continue using the text as a spine but will make some changes with our approach this week.
In history, we learned about the Assyrians. We added a wall timeline that proved helpful for my middle daughter who is visually stimulated.
In math, we continued with Horizons math. My eldest daughter is focusing on double and triple digit division and the younger girls are being introduced to division. They also review previous concepts daily with this text which is very helpful for them.
In grammar, the girls continued with Daily Grams and Easy Grammar. My middle daughter is still confusing adverbs and adjectives so we will take time next week to work on these with some fun center activities. I found loads of them on Pinterest this past weekend.
During art time, the girls made functional wooden clocks which they decorated and then put together the electrical pieces.
In geography, we studied the political map of Central Africa.
During center time, we incorporated some of our learning games that we haven't utilized in a while. The kids really enjoyed getting into them again.
This week, I really enjoyed the extra time that I had. It felt good to exercise and even take a nap a few days this week. I can't tell you the last time I did that. Being a homeschooling mom is sometimes overwhelming, but this past week didn't feel that way at all. It really felt good to provide home cooked meals everyday, quality school time, and balance that with great family time. The best part of it all, is that the children enjoyed their days so much better. Nothing is more important than that!