Enjoying nature seemed to be the theme of last week. The girls completed their habitat studies and enjoyed several nature walks this week. We visited a few state parks and made observations of the various ecosystems. The girls worked more in their nature journals, practicing with identifying and classifying the living organisms they found. We also got some great exercise time in.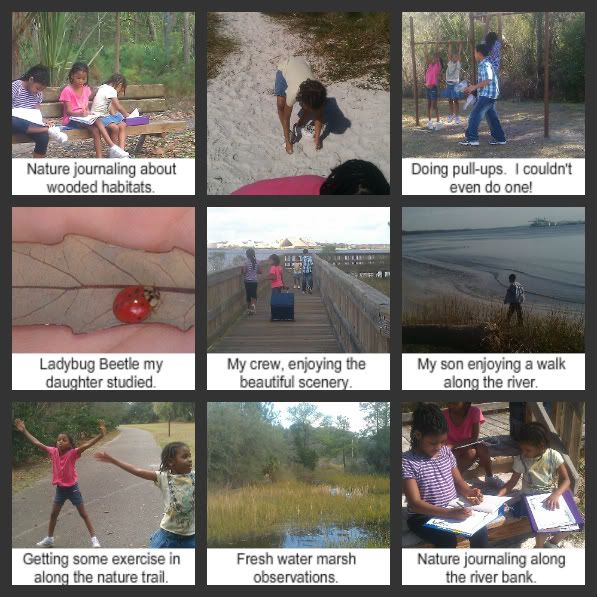 Outside of our nature studies, we had the opportunity to attend art club classes at the library. We also completed our study of Babylon and continued on with SOTW. Nick received his first set of grades from FLVS.
We decided to change over to a workbox system. I never thought I would give this a try, but here we are. The girls have been having trouble moving from one subject to the next and were needing constant motivation. God forbid something distracted us for too long, I would never get them back! So, I did more research on the workbox system by Sue Patrick. Most have nothing but positive things to say and love how the children are motivated to complete their assignments. The creativity of moms is easily seen when you research the various set-ups they have created. I fell in love with the mobile drawers, but we could not afford it. Instead, I used what we had and only purchased a few expandable folders and laminating sheets. I spent about $40 setting up all four children. Today was the first day we used the set up and we all enjoyed the day. The flow was wonderful, but it is Monday, so I'll update you on how it worked out the rest of the week.
Finally, I have been looking for ways to cut down on the daily cooking and dish washing that overwhelms my home. I would usually wake up and cook my meals and work on housework early in the morning. This worked great, but it was time consuming and some days, you just want to sleep in a minute. Luckily, I stumbled across a pin on Pinterest about freezer meals.
Mama and Baby Love
is the blog I used for direction and recipes. I spent about 4 hours Friday morning on food prep and the kids helped with the dishes! We will share how this worked for our family in a little while.
Dorcus